Web Based Cloud Version Product Features: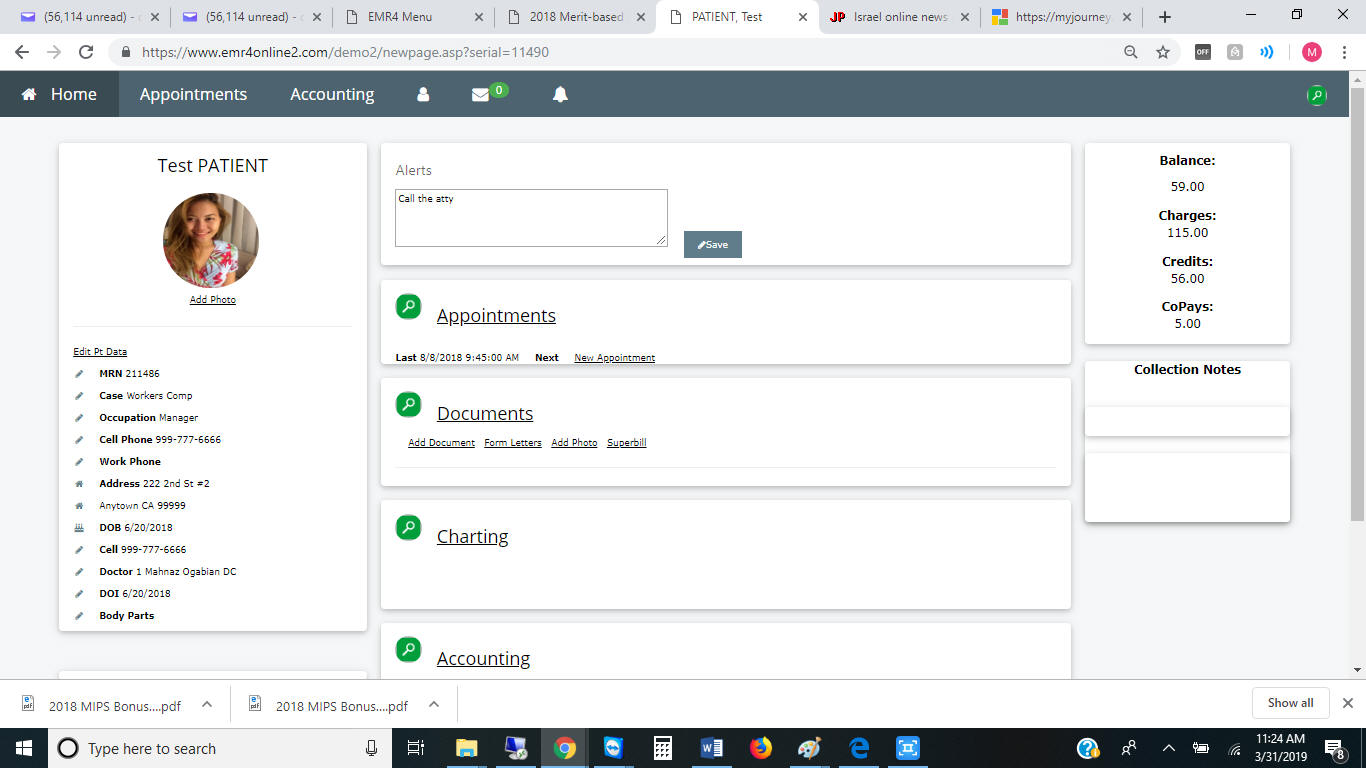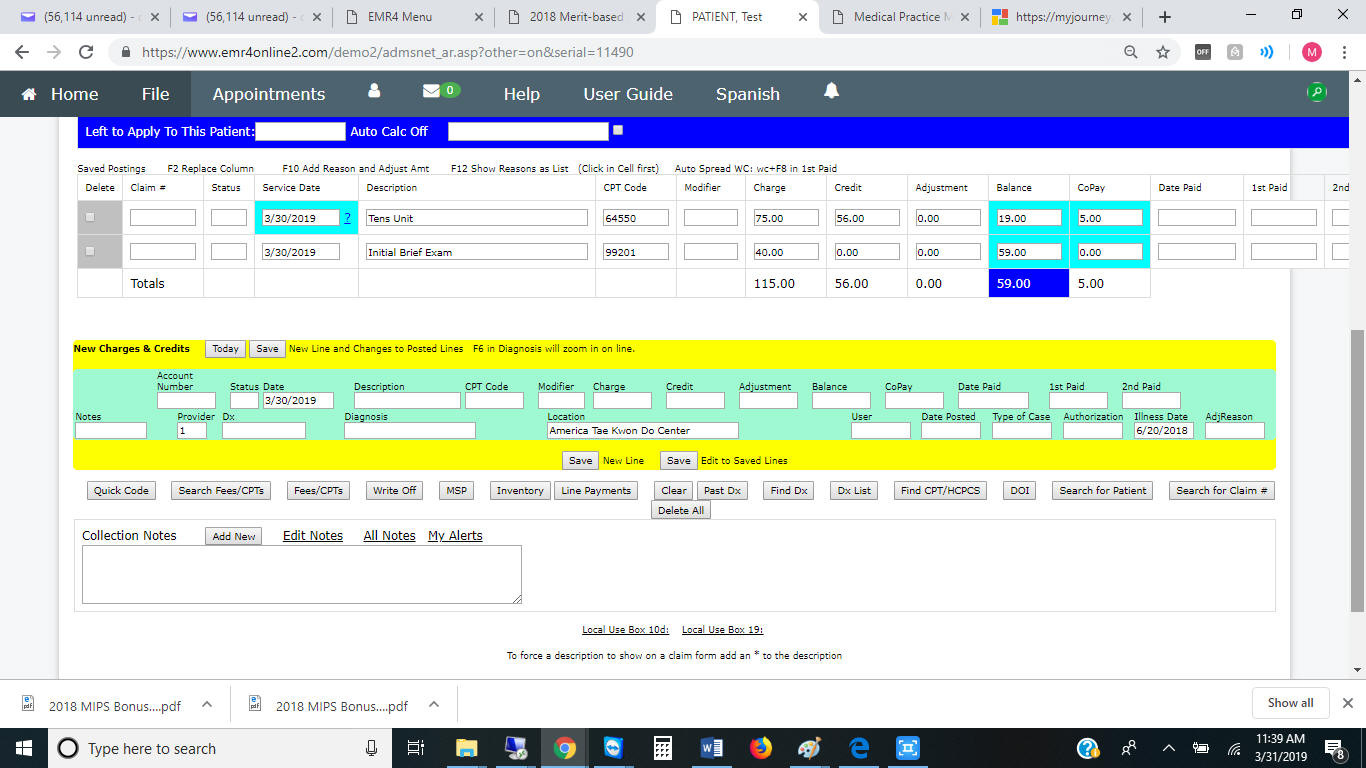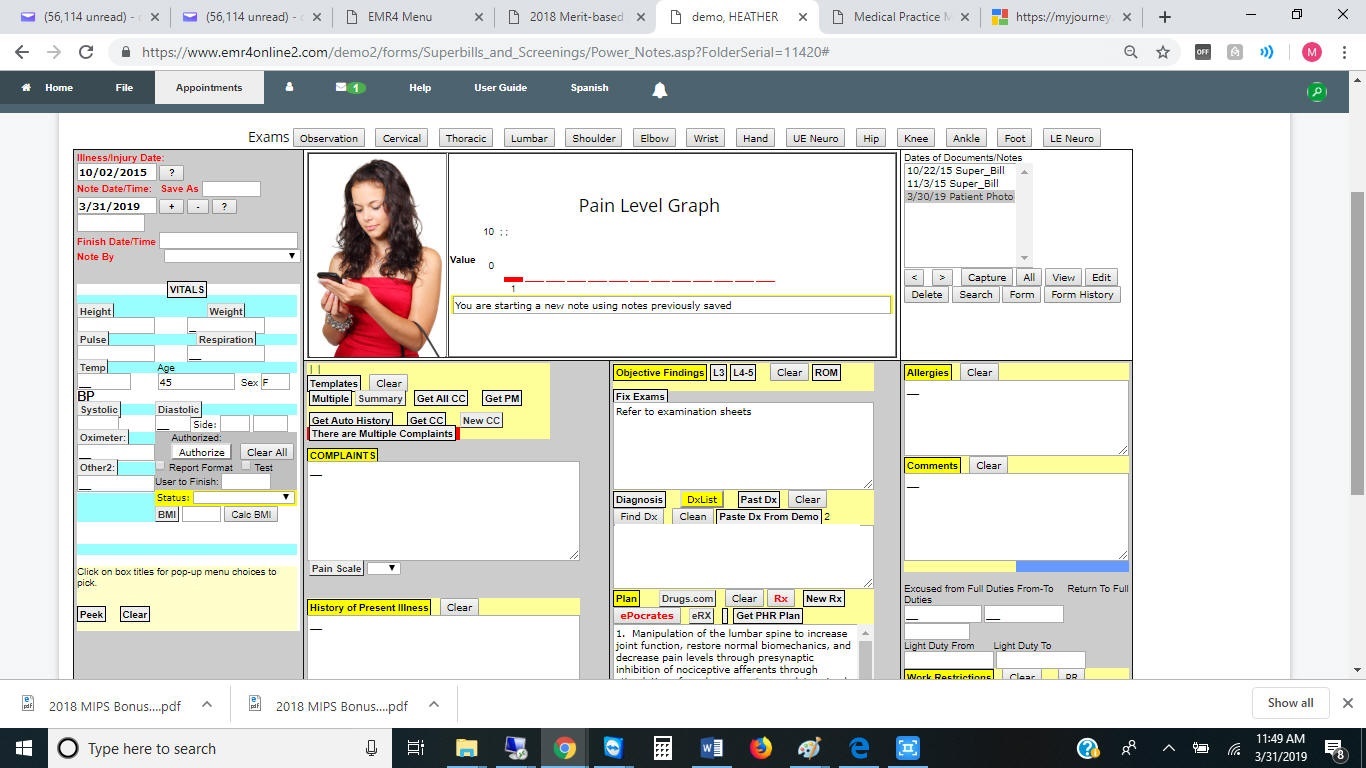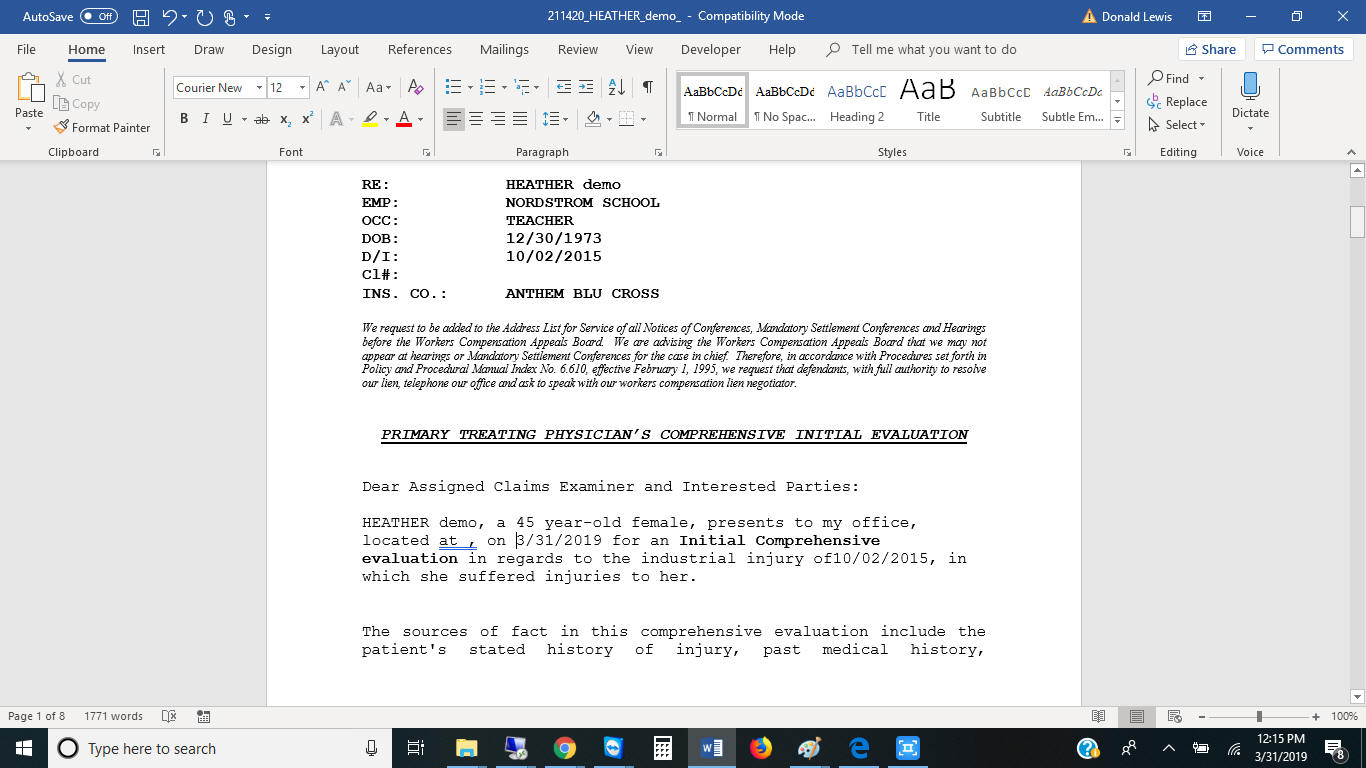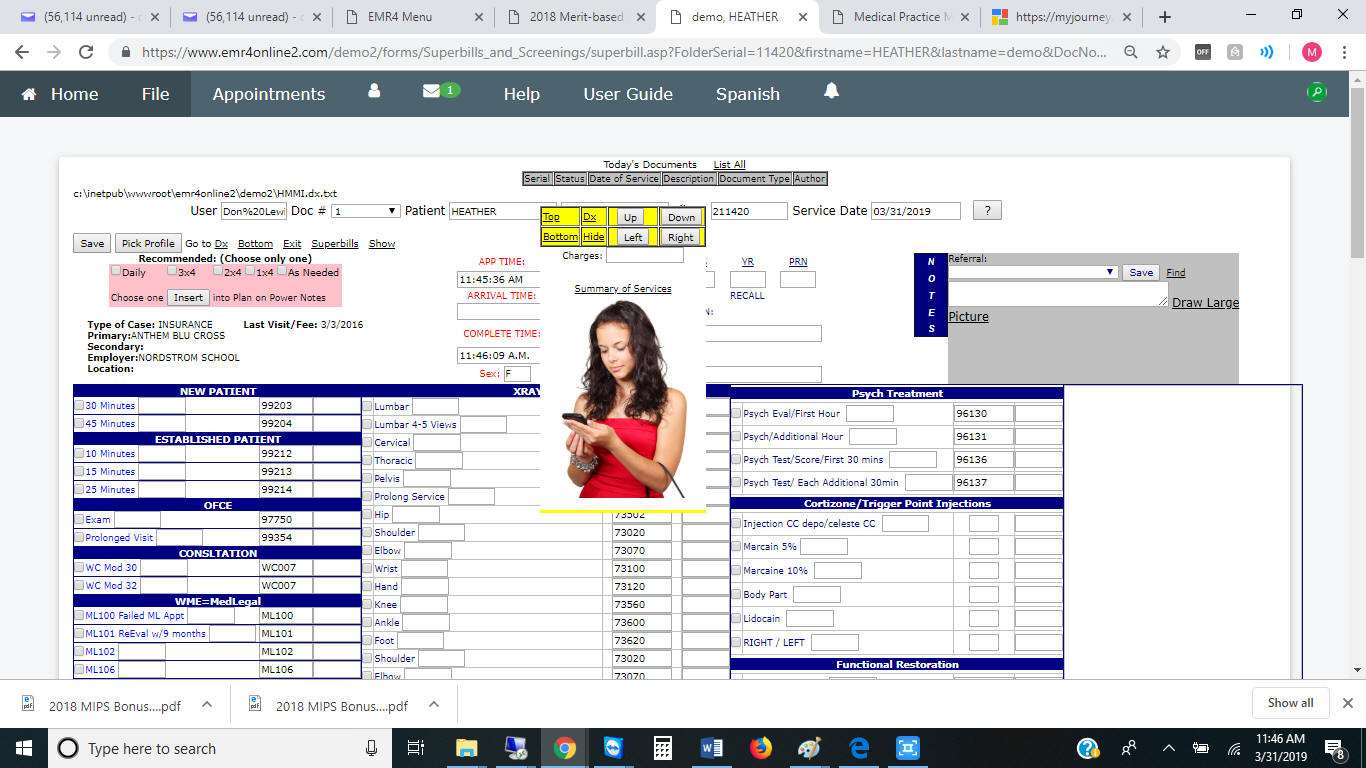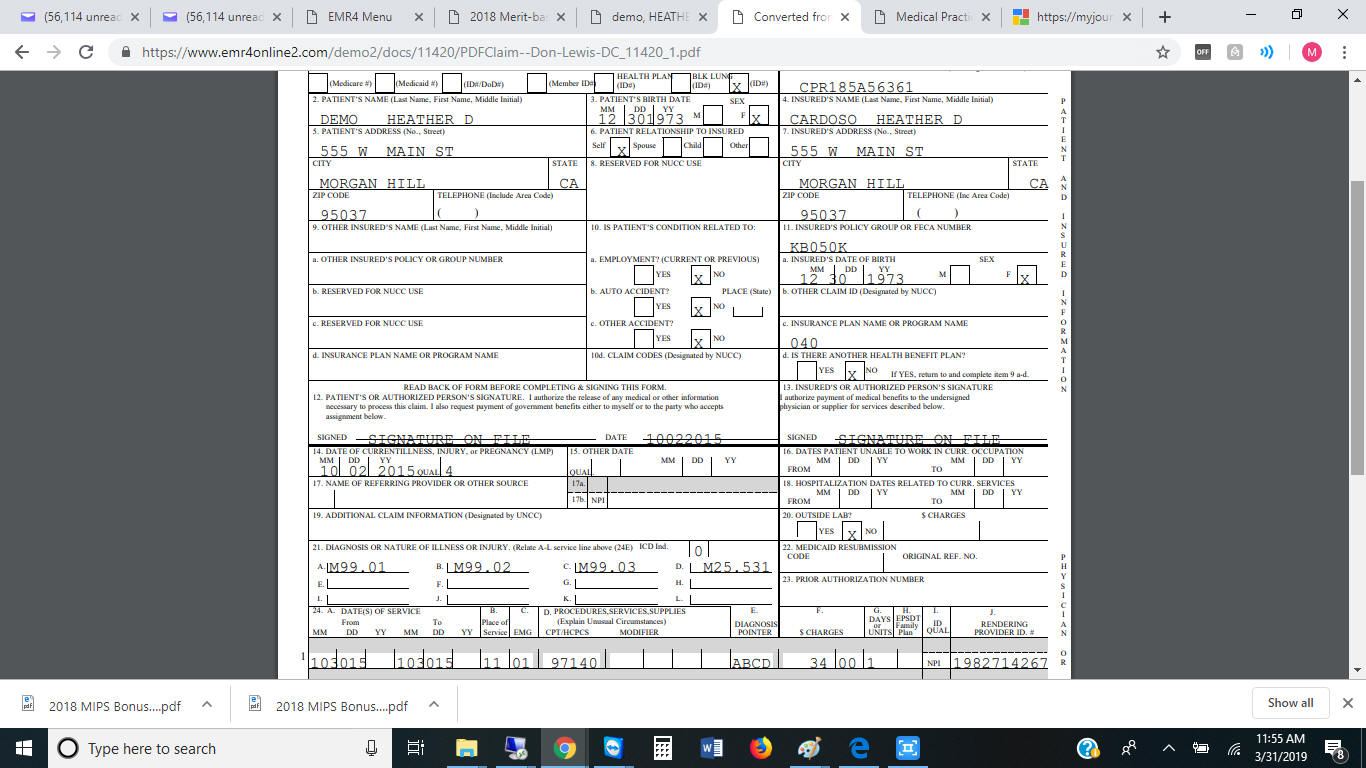 Designed by doctors for large

clinics with many

users

or businesses or groups/associations

with multiple clinics

.
Instantly design your own magic superbills that post charges and diagnoses to the billing module.
Macros can fill out a super bill in two clicks,---useful for diabetes profiles, etc.
Keep your current work-flow by dropping in any of your current paper forms or drawings as an image or HTML

.
Sketch online

or sign documents online.
Fill out pain drawings and scribble notes just as if using paper

.
Definable demographics screens

,

accounting screens, chart note screens, and claim form output.
Charting templates can be written in any language

.
Create interactive notes in seconds

.
Templates and Charting tools are designed to increase Medicare E&M code compliance

.

.
Innovative referral system that tracks referrals to consultants, diagnosis centers and labs. Reminders to make sure you follow up.
Outside groups

and consultants, labs, etc.

can place their reports right in the patient folder

or send them electronically (see 29).
Multi-Media document management means any

MS Word file, MS Excel,

form, image, document, e-mail, and scanned image can be stored (as BLOB)
and tracked by reader and or patient folder to meet HIPAA compliance

.
Time Clock

to track employee hours and automatically total them for any period.
Appointment Scheduler

with an option that can allow patients and referring doctors to make their own appointments

.

Tracks missing charges and patient notes.
Snap-shot of each

medical

claim

form

stored in the claims filing cabinet

.
S

canner support

of single flat bed, auto page feeders and card scanners.
Search report and financial report builders

.
Collection alerts

for accounting department with tickler dates and times.
User permissions by job description

.
Multiple fee schedules

.
Write-off codes

.
Data storage in MS SQL Server means scale ability with multi-user, multi-location usability
E&M Auditor tells what E&M bullet points were achieved and which ones were missed. Gives E&M Code Level.
Import transcription files into patient folders.
DICOM file import as JPG for viewing online for MRI, Ultrasound images, etc.
HL7 import of LabCorp, Quest and Fletcher Flora lab tests. Color coded if out of range.
Patient sign in screen with signature capture.
Message any staff member, work groups, supervisor groups about any subject, about a patient, about documents in a patient folder. Easy to see if they read their messages.
Find all messages about a particular patient.
Speak Spanish to patients by picking the appropriate situation (waiting room, exam, etc) and English sentence.
Electronic community referral system allows passing selected demographic information and documents from a patient folder to another EMR4 software site anywhere in the world.
Other sites need not have access to your system.
Tracks all user activity from patient folder or by user. E.g., all the people who read any document in a patient folder, or on the flip side, what did an employee do all day?
Electronic Claims submission.
Inventory features to track who received inventory and how many are left on hand.
Form letter system makes it possible to design your own master letters and forms and drop in the selected patient information.
Animated training modules along with MS Word user guides so you can add your own business rules.
Reports of orders to complete, e.g., order MRI, orthotics, etc. Useful for staff to check off all the orders put on superbills.
Track up to 20 different complaints on a patient and the status of each complaint each visit.
Graph (chart as bar graph) vital signs, pain levels, etc.
Upload screen shots, groups of files into a patient folder.
Allow employers to see their own employee files, payers (TPA, insurance companies) to see their own insured files.
Allow PA to read a doctor's messages along with their own.
Email Appointment Reminder.
Text message appointment reminders to one or all for the day's appointments. Patient can confirm appointment on their smart phone.
Patient Portal allows patients to keep a health journal, see their records, changes, watch educational videos, check off tasks on their reminder calendar, register and fill out forms from home or work.
New 02-12 CMS 1500 Claim forms allowed with 12 diagnoses per page.
---
PC Based Billing/Scheduling Product Features:
Easy to understand posting / accounts receivable screen resembles a ledger card

Quick Codes save time and make posting common fees practically effortless!

Import 835 payments

CPT Code report

Combine several fees and post them simultaneously

Diagnosis can be the current findings or integrated with the patient history from the EMR4 Charts software.

Patient statements are easy to use and a history is kept of every bill sent.

Insurance bills can be printed to CMS 1500 or electronically sent to our clearinghouse.

The patient schedule supports multiple doctors and color coded appointments. The days appointments can be audited automatically against posted accounts receivable charges so no patient fees are missed!

All bills are checked for errors to save time before sending bills or mailing them.

An authorization system stores every pre-authorization number and can tell you which visits are not covered!
Software and Hardware Requirements